Ophelia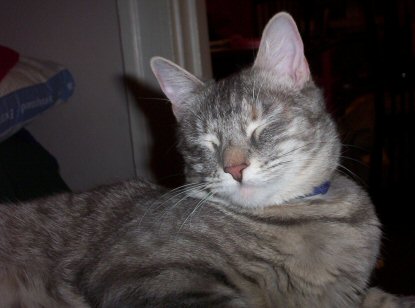 This is Ophelia, also known as Phlea, Phleabutt, and Ophlealia. She's two years old, and mostly Dave's cat. I got her from a co-worker who couldn't keep her anymore, and surprised Dave by bringing her home one night. She loves to stand on her hind legs and rub her face on people. She also loves the smell of bleach, and will attack Michael's hands when he comes over after work smelling like the stuff. She's an extremely friendly and affectionate cat. Here are some more pictures of Phlea.
Cheese
This is Cheese. He's three years old, and definitely my baby. He ended up with the name because when I got him from the shelter, the name on the cage was "Chief" and it just didn't suit him. He's spoiled rotten, even to the point of having his own Dixie cups to drink from. He's also very bright. When he wants a new cup, he knocks the old one into the sink, rubs against the dispenser, and holds a paw under the faucet, all the while looking at me with big, blue eyes. He wakes me up in the morning by jumping on my pillow and flopping down on my face. Here are more pictures of Cheese.
Murabi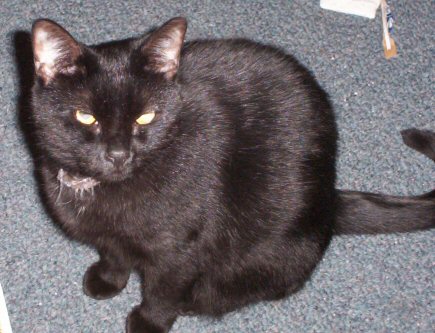 This is Murabi. Mur is an odd little cat. She's six years old, and has been with me since she was a small kitten. She's fairly anti-social but occasionally enjoys human company. The problem is that when she wants to be petted, you pretty much have no choice. She's very gradually getting to the point where she will allow me to pick her up. Charlie was her best friend, and I think she still misses him sometimes. She doesn't like any other cats. Here are more pictures of Murabi.

In Loving Memory - Cats From the Past
Charlie
Charlie was a really amazing cat, very affectionate and reasonably intelligent. He slept on my pillow every night for three years before dying of intestinal failure on August 14, 2001.
Kitochka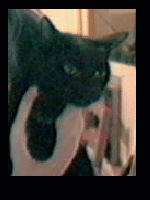 Kit was the first cat I had when I moved into my own apartment. I lost her when we were getting ready to move to St. Louis, and she got out of her carrier and ran away. The last time I saw her was on the rooftop of an abandoned house in Virginia. We tried to catch her, but she'd gone a little wild. She looked healthy and happy, and still had her collar and tags on. I hope some nice people found her and convinced her to move into their home.